The
Angelic Sapphire Pickaxe
is different from all other pickaxes, and very rare for a very good reason. This is the only pickaxe that can mine
Electrosteel
, a very rare material that can only be mined during
Electric Storms
. Because of the pickaxes ability to mine one of the rarest materials to be added yet, the pickaxe itself is also very rare, adding up the contents' prices of this pickaxe, I can infer that the trade price of this pickaxe is 8,450db - 9,400db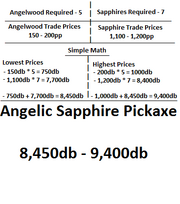 This is also an extrememly rare pickaxe because of its crafting contents, to craft this pickaxe you are required to have 5 Angelwood , and 7 Sapphire , both extrememly rare materials that have specific standards in order to be mined.
Ad blocker interference detected!
Wikia is a free-to-use site that makes money from advertising. We have a modified experience for viewers using ad blockers

Wikia is not accessible if you've made further modifications. Remove the custom ad blocker rule(s) and the page will load as expected.