Astraeus
Type
Sloop-of-War
Role
Combat
Hull Strength
19000
Max Armament
10 x Size 8 Cannon | 2 x Size 4 Cannon (Stern) | 2 x Size 6 Mortar (Bow)
Max Cargo
10
Speed
6

REQUIRES

Metal
240
Timber
920
Doubloons
88k
Level
10
"The Astraeus's massive guns will make any enemy think twice before attacking". -Shipwright
The Astraeus is a level 10 ship with high cargo, incredible armament, the second highest hull strength in the game, and a low speed. While she is much more of a combat ship than the Atlas, she is still a great trader, and a large crew can fire massive amounts of ammunition from her 14 large cannons and her 2 mortars. Her greatest weakness is lack of maneuverability, which can let the most skilled pirates get in her blind spot.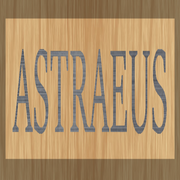 Ad blocker interference detected!
Wikia is a free-to-use site that makes money from advertising. We have a modified experience for viewers using ad blockers

Wikia is not accessible if you've made further modifications. Remove the custom ad blocker rule(s) and the page will load as expected.