Freeport is an independent island that lies in the southeast corner of the map. As the name suggests, Freeport carries no shipping tax. Unlike other islands, Freeport has a fishing merchant where you buy fish cargo for different fish, such as a Trout or Mullet. An accessory merchant is also available to use at Freeport, where you are able to buy capes, parrots, and other cosmetic items. Freeport also has a very small 4 sided Colosseum representing each playable faction. There is also an underground tunnel from one of the houses that leads to a giant playable harpsicord.
The new furniture vendor located here sells items that can be used to assemble weapons, produce fish oil, make candles, and allow people to access their warehouse from inside their house. All of which can be bought by loyalty tokens.
Lore: Freeport was attacked by the Whitecrest navy during the occupation of Whitecrest by the Inyolans. Freeport had retaliated and took 45k doubloons. Freeport and Whitecrest are currently on an unstable status in terms of peace. Also, Freeport is experiencing a civil war between between the United Commonwealth of Freeport and Official Government forces.
In the first nahrlympics, Freeport was used as the stage for the nahrlympics. Freeport also built a new chess board down in a house a enormous chess plate, free for players to use!
The chess board has been recently replaced with a harpsicord.
(Note: There is a belief that mining at Freeport during storms makes gems more likely than mining at other non-spawn islands during storms. This has not yet been fully confirmed to be true, but based on player experiences, recently this is a likely possibility)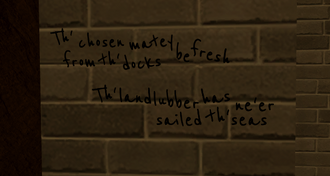 picture of writing on the wall in the Freeport mines