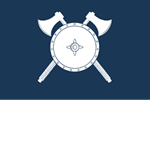 Hallengard is one of the major factions in Tradelands. It is located in place of the Verner Expedition's previous home, Fort Verner, at the northernmost point of the Tradelands world. The people of Hallengard are made up of former Verdantine subjects, and also consist of members of the former Verderdantine government. Hallengard's culture is based on Viking history. It used to be a vassal of Nova Balreska.
Hallengard Group Ranks
The faction's group contains ranks based on Viking history.
Thrall (Minor Citizen)
Skald (Major Citizen)
Herra (Navy Crewman)
Thegn (Navy Midshipman)
Aesir (Navy Officer)
Radningar (Navy Admiral)
Hersir (Warlord - Diplomat)
Freyr (Leader)
Diplomatic Relations
Government: Viking
Allies: None.
Neutral: Burkeland, Purshovia, Whitecrest, Nova Balreska.
Navy can only attack: Blackwind Pirates.
Enemies: Blackwind Pirates and Inyola.
After having Verdantine being conquered, the Verner Militia (consisting of Verdantine Former Government), was given a new home at Verner Expedition's old home, Fort Verner.
Officials
Freyr (Leader): ShufflingJason
Hersir (Warlord): ExtremelyUnlucky
Radningar (Admiral): wantingblob, ianlegendstone, MrSquiddyMan833
Ex- Freyrs (First to last): Fraunsnak (Frauns), Confused19, FaboGrenouille, Naxirb, GrandmasterHelios, ianlegendstone, ZephyrThrone, jus28228.
Trivia
Hallengard is the replacement to the Verdantine Sovereignty after it was taken over by the Verner Expedition.
On August 15, 2016, Hallengard was invaded by a fleet of Blackwind Pirates.
Hallengard's navy officer flag is on a white field; rather than the dark blue
As stated in the flag caption; the faction is based solely on Vikings.
Hallengard and Inyola are sworn enemies
Hallengard was Freed from the Nova Balreskan control by Wilkosgaming 2 days after he was elected chancellor
On 18 March 2017 Hallengard declared war on Nova Balreska
Hallengard is considered by many players as the faction with less members
The official group link can be seen here: https://www.roblox.com/groups/group.aspx?gid=2845490
Ad blocker interference detected!
Wikia is a free-to-use site that makes money from advertising. We have a modified experience for viewers using ad blockers

Wikia is not accessible if you've made further modifications. Remove the custom ad blocker rule(s) and the page will load as expected.