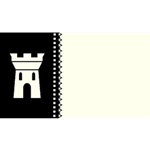 The Kingdom of Whitecrest occupies the south eastern region of the Tradelands islands.  The Kingdom of Whitecrest is led by an elected king who is currently hhhhhhhhhhhhhhh33333. Their main port is located in Whitecrest, as the name suggests. It is the largest and oldest faction in Tradelands. The island has dense ore deposits, making it a favorable mining spot.
The Whitecrest Navy is the longest running navy since Tradelands became public. The navy also goes back to the Beta times of Tradelands. The navy had also fought against Inyola during the Whitecrest and Inyola conflict, ending up in the defeat of Inyola by Purshovian forces.
Geography
The Island of Whitecrest is a crescent shape which gives Whitecrest a great advantage to those who wish to raid its ports. The island has many house surrounding the vast greenery spaces giving the place an open feel. There are also 2 dense rock quarries that allows miners to get ores from. On the eastern side is the merchant ports where products and goods are sold and bought.. On the southern side lies the ship docks.
There are two batteries in Whitecrest along with one fort. The fort is located to the northwest of the island on the left tip of the crescent, containing three rows of long guns and 1 mortar on the top. Down below the fort lies Whitecrest navy's naval supply and jail. One of the small batteries located near south end of Whitecrest ports near the warehouse and merchants, provides 2 - 4 guns in case if any pirate ships were to invade their main fort guns. The other battery is located near the northeastern crescent of the island, containing five long guns. This one is barely used due to it being so far away from the main area.
Diplomatic Relations
Government: Monarchy
Allies: Inyola
Enemies: Blackwind, Hallengard and Nova Balreska (Northern Confederation)
Officials
King: hhhhhhhhhhhhhhh33333
Prince: SentientDakimakura
Diplomat: Rhonor, 99504man, EpicDogMan10, CaptainPikmin64
Minister of the Navy: sebseb12345678910
Admirals: dogdan17, LucasKCVC
Previous Kings:
Holyswine, Notom, Kagaros, Taborak, Avortolani, Hahaboomman1234, EpicDogMan10, 99504man
Trivia
The Kingdom of Whitecrest used to have many type of advisers. The type of advisers were Diplomat, Treasury, Military. The rank is now reduced to just Diplomat.
Knights are the highest honor for former naval officers+ and diplomatic members of Whitecrest who decided to retire.
Usually the faction in which traders are targeted by pirates.
Normally the faction where most players are members.
Avortolani's and Hahaboomman1234's Era were considered the "Golden age of whitecrest" by many veteran/old players.
The official link to the Kingdom of Whitecrest group: Click Here
Ad blocker interference detected!
Wikia is a free-to-use site that makes money from advertising. We have a modified experience for viewers using ad blockers

Wikia is not accessible if you've made further modifications. Remove the custom ad blocker rule(s) and the page will load as expected.