The Map is given to the player when starting Tradelands for the first time. The Map is used to help players find their destination and the locations of all the lands. The map includes four factions, Whitecrest, Blackwind, Nova Balroska, and Hallengard. The map also contains 3 other non-spawnable islands, Fenwick, Perth, and Freeport. It does not, however, include non-playable factions.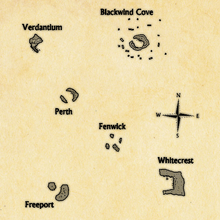 Ad blocker interference detected!
Wikia is a free-to-use site that makes money from advertising. We have a modified experience for viewers using ad blockers

Wikia is not accessible if you've made further modifications. Remove the custom ad blocker rule(s) and the page will load as expected.