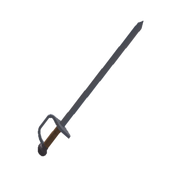 Sword materials only affect the durability. Salt degrades the fastest and steel degrades the slowest. Sword material does not affect damage. Basically if someone has the same sort of sword as you (shortsword, sabre, etc etc) made of a different metal, you are not at a disadvantage.
Wood types are cosmetic and do not affect anything but the appearance. Each tier of weapon does more damage than the last one; however, their swing speeds may vary, with daggers having the fastest attack rate and the battleaxe the slowest. Daggers also take up less stamina than other weapons, but have the shortest range.
Ad blocker interference detected!
Wikia is a free-to-use site that makes money from advertising. We have a modified experience for viewers using ad blockers

Wikia is not accessible if you've made further modifications. Remove the custom ad blocker rule(s) and the page will load as expected.