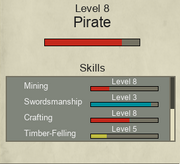 In the game, players are able to increase their skills and their faction level, which allows them to gain a new
Title
. When starting the game for the first time, no skills will be seen besides for Faction, Mining, Timber Crafting and Gunnery, when pressing "C" to see your title and skill levels. Skills will start showing up once the player has gained experience from doing it.
Edit: I have made an in-depth article about crafting, familiarize yourself with Crafting here. My new page is still a work in progress but recommended. Soon I will be working on and explaining about all other skills.
Skills
Below are the types of skills that can be achieved in Tradelands:
(In no particular order)
Faction
Mining
Timber-Felling
Crafting
Gunnery
Fishing
Marksmanship
Swordsmanship
Brawling
Blacksmithing
Carpentry
Skills Table
Here is where players may see what each skill may unlock once you level up.
| Skill Type | How to Get Better | Maximum level | What the Skill Unlocks |
| --- | --- | --- | --- |
| Faction | By Trading | 10 | Ships |
| Mining | By Mining | 10 | Ability to get rarer resources and resource multiplier, +2% base stamina per level gained (20% maxed) |
| Crafting | By Crafting | 10 | Ability to craft a better variety of items |
| Timber-Felling | By Chopping Trees | 10 | Ability to get rarer resources and resource multiplier, +2% base stamina per level gained (20% max) |
| Fishing | By Fishing | 10 | Ability to get rarer fishes |
| Swordsmanship | By Sword Fighting | 10 | +20% Base stamina when maxed and slight attack speed increase for every level |
| Marksmanship | By Firing Ranged Weapons | 10 | Reloading takes less time (Unconfirmed) |
| Brawling | By Brawling | 10 | 40% more base stamina when maxed out |
| Gunnery | By Firing Cannons | 10 | Reloading takes less time |
| Blacksmithing | By Crafting Using the Blacksmith Station | 10 | Ability to craft a better variety of items |
| Carpentry | By Crafting Using the Carpentry Station | 10 | Ability to craft a better variety of items |