Verdantium is an island in the northwest corner of Tradelands. Verdantium is the main port of the Nova Balreska faction.
Verdantium consists of a L-shaped island and a large docking area.
Players there can, at the cost of one Copper, purchase a box of musical instruments, which has a high value.
The Verdantium island is now in ownership of Nova Balreska where other players could perhaps gather resources by mining and felling. That is the reason it is not called Verdantium to this day. And yet there is Fort Gallant located on the eastern tip of the Verdantium island built by TheValiant himself.
It consists of large docks and the trading area where merchants could buy crates and deliver them to other islands for revenue. Since Verdantine Sovereignty was defeated by the Verner Expedition this article is outdated because this topic is now related to Nova Balreska, but it required some necessary information regardless.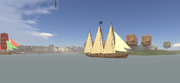 Ad blocker interference detected!
Wikia is a free-to-use site that makes money from advertising. We have a modified experience for viewers using ad blockers

Wikia is not accessible if you've made further modifications. Remove the custom ad blocker rule(s) and the page will load as expected.